Welcome to Art Camp!
Join in the fun of creating pieces of art!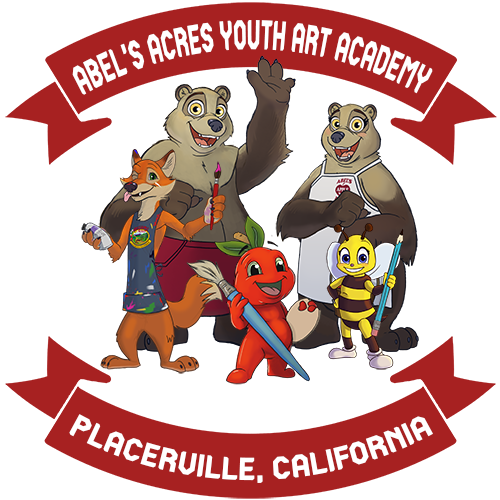 | | |
| --- | --- |
| Abel's Apple Acres is proud to host a Youth Art Academy. This program will provide a week long summer course in art. Each camp day Abel's Apple Acres will open its doors to welcome the youth of our community to our exciting summer program. All of our activities are customized by our highly educated teachers who have degrees in art and education. Throughout the week your child will be able to express themselves creatively, while having fun, and building lifelong memories. | |
About the Academy:

Each week your artist will take part in a series of courses, learning and expressing themselves through various art mediums and through curriculum and projects. Students are placed in three different groups based on age, as the art projects and instruction will be age appropriate. Throughout the day students will be rotating between three different classes. Each class will be doing different activities to keep your student engaged throughout the day.
Activities:

Drawing - art instructors on various drawing techniques and media, which may include pastels, colored pencils, graphite, pen, and charcoal.
Painting -art instructors on various painting techniques and media, which may include collage, mixed media, watercolor, acrylic, and textiles.
Printmaking - art instructors on various printmaking techniques, which may include monotype, relief, collagraphs, and silkscreen.
Ceramics - art instructors on various ceramic techniques, which may include tile making, pinch, coil, and slab.
Sculpture -art instructors on various sculpting techniques and media, which may include modeling, assemblage, and mixed media.
Drop-Off and Pick-Up:

Each morning, Abel's will open the doors for student check-in at 8:00am. All students will need to be signed in/out by their parent or guardian at the time of drop off and pick up. Instruction begins promptly at 8:30am. Student pickup is at 3:00pm to 3:30pm.
When:
Abel's Youth Art Academy will be July 12, 2021 to July 16, 2021
Hours:
The Academy will be from 8:30 am to 3:30 pm
Age Group:
We ask only students from 6 to 12 years of age.
Cost:
$250 which includes all art supplies needed for the week.
For questions, please contact:
Tyler Ames at (916) 832-3700 or [email protected]
What to bring:

Please have your child wear comfortable, appropriate clothing that can be damaged by paint, markers, chalk, etc. Please note students need to bring a lunch and snack if wanted. We will only be providing water throughout the day.
Cancellation Policy:

All Abel's Apple Acres purchase fees, for in-person programs, are non refundable. However, if you decide to cancel your child's participation in Abel's Apple Acres Youth Art Academy, any time up to 24 hours before the start of the program, you will receive a 100% refund.

Should Abel's Apple Acres find it necessary to cancel the Youth Art Academy in order to protect the health and safety of our staff or participants, or due to any other circumstances, there will be a 100% refund.
Health Policies and Procedures:

If your child gets an unfortunate bump, scrape, or skinned knee, you will receive a note about the incident at pickup. In the event of any head injury or serious bodily injury, you or your emergency contacts will receive a call within 15 minutes of the injury, and a full written Incident Report will be provided to you within 48 hours.
We Do Not Allow:

Weapons, drugs, alcohol, tobacco or other banned substances. We also do not allow animals at Abel's Apple Acres except in the case of service animals.
Electronic devices (including but are not limited to cell phones, tablets, laptops and chromebooks). If students do bring them, they will be asked to keep them in their bag throughout the duration of the Academy day.
REGISTRATION FORM WAIVER & LIABILTY