Country Fresh Baked Goods
Our skilled bakers prepare pies using a perfect crust made from a family recipe. Full flavored fruit from the apple orchard, combined with the golden crust, makes our pies special! Choose your pie, fresh from the oven, from our wide selection.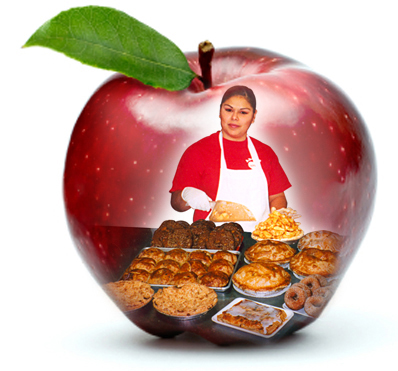 Apple Crumb, Blueberry Apple, Buttermilk Apple, Buttermilk Apple Berry, Cherry Apple, Splenda Old Fashioned Apple, Old Fashioned Apple, Pecan (Thanksgiving only), Plain Pumpkin, Pumpkin Apple, Strawberry Rhubarb Apple, Caramel Apple Pecan
(Note: Availability of Certain Pies May Vary)
More Tempting Homemade Baked Goods...
Apple Fritters, Dumplings, Donuts, Strudel, Crisps, Breads, Cakes, Cookies.
From our freezer, select a frozen unbaked favorite to take home to enjoy another day.
Apple Strawberry Rhubarb

Blueberry Apple

Buttermilk Apple

Buttermilk Apple Berry

Crumb

Cherry Apple

Carmel Apple Pecan

Marion Berry

Old Fashion

Peach

Pecan Pie
(Holiday Only)

Pumpkin Apple

Plain Pumpkin
(Special Order Only)